Ok, non-geeks if you're just happening to learn that there's a new Batman movie. Well you're in for a shock because the new Batman villain may not be someone you are familiar with. So, hit the link below and take a good look at Batman's new nemesis.
source: ComicBookMovie
Here's Tom Hardy playing the villain known as BANE!
Bane in the comics is famous for breaking Batman's back (Probably a possible movie spoiler?).
Here's a short wiki about Bane:
Bane is a brilliant world-class fighter and tactical genius who augments his great physical strength with a steroid called venom. Raised from childhood in the Peña Duro prison on Santa Prisca, he determined that he would destroy Batman to prove himself, and succeeded by breaking the hero's back during Knightfall. Since then he has been an international crimelord, an anti-hero, a mercenary, a government agent and even a dictator. His father is the legendary martial artist King Snake. He has been a member of the Secret Six, the Suicide Squad and the Secret Society of Super-Villains. Bane was created by Chuck Dixon, Doug Moench and Graham Nolan, first appearing in Batman: Vengeance of Bane #1. (1993)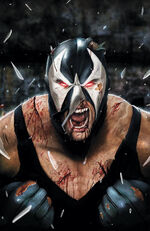 The Dark Knight Rises is scheduled to hit cinemas July 20th, 2012